As most of you already know, Chalynn spent her "wenty-eighth" birthday with us, here in little 'ol Idaho. It was lots of fun! We took her out to Red Robin for her b-day dinner and Kacey and her girls joined us. It was a blast! Then we came back to our house for cake and icecream. Jan and John joined the group then, and we sang "Happy Birthday" to Chalynn and watched her blow out the candles. Our Home Teacher is a cop, and we tried to get him to stop by in uniform, with his cop car lights going, and arrest Josh, but he was too busy. Darn it. Next time, next time. Well, here are some pictures from the "party":
I made her FABULOUS ;) cake... with Chalynn's approval of course!
She was so embarrased when we sang to her. She just couldn't sit still. Dang I love this girl!
Here she is blowing out the candles. I only used eight total (because I don't keep 28 candles on hand). She missed a few after the first blow, took 'em out with the second! ;)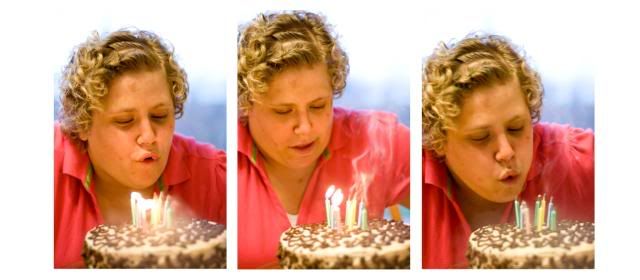 Happy Birthday Chalynn & thanks for spending your big day with us!